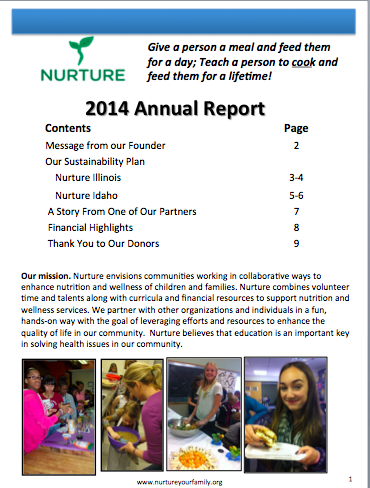 2014 was an exciting year of transition for Nurture.  We are thrilled to announce our sustainability plan!
We reached over 10,000 people nationally and continue to participate in Let's Move!, Food Day/Center for Science in the Public Interest, Jamie Oliver's Food Day and more, we are getting the word out to hundreds of thousands of people about the importance of healthy eating and physical activity.
We are doing all of this important work under a much leaner, efficient model.  In fact, we have been so careful with our expenses over the past seven years that we have been able to move into a new "era" where our endowment interest can now cover all of our overhead expenses to ensure that any donations received go directly towards programming to improve the lives of children and families.
A few of the highlights in 2014 accomplishments, above and beyond our sustainability plan and shoring up of our endowment, include:
*Exceedingly well documented program evaluation results for our programs in both the school setting and agency setting
*Newly developed training materials (for schools to implement the Elementary Program and for social services agencies to implement Family Programs) that allow our partners to "do Nurture"
*A website re-design so that our high-demand curricula for social service agencies (Cooking Class Resources, Family Program, Prenatal Program and Postnatal Program) and recipes (Adults, Kids, and Harvest Recipes) can be quickly and easily accessed
*A re-organization of our curricula for schools (Early Childhood/Kindergarten, Elementary, "Food and Fun" and Middle School) which allows for easy access
*Significant work to complete translations for our Family Program materials (into Spanish), so that these materials can be made available to healthcare workers in Spanish-only neighborhoods
Click here for the full report and more details about 2014 year.  Thank you for helping us make such a meaningful impact on our communities!
Previous Annual Reports – click links below
2013 Annual Report
2012 Annual Report
2011 Annual Report
2010 Annual Report
2009 Annual Report