In 2008 Nurture launched with a focus on low-income families with children at high risk for nutritional and health problems. We reached our participant families primarily through partnerships with food pantries and social service organizations.
Please see this video which tells the story of our organizational roots:
In 2010, Nurture expanded into the school environment and also launched our our programs in Spanish.  This video gives some background on Nurture's expansion:
In 2013, Nurture's role in school-based nutrition and health education continued to grow:
Where We Are Today
Nurture continues to meet the need of health education and promotion through programs with schools and other partnerships.  Please watch This slideshow which shows some of the goals we continue to strive towards.
Nurture is forever grateful to our Founding Board, the set of people who worked tirelessly to launch our initial programming and foster our early expansion.  You can hear from from many of these individuals from this early Nurture video, and read their bios and background below:
Nurture's Founding Board:
Kathryn Guylay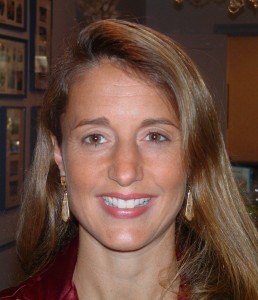 Kathryn Guylay has a B.A. from Emory University and an M.B.A. from the University of Texas at Austin.  She is a Certified Nutritional Counselor through the Trinity College of Natural Health. Formerly a Senior Manager at the Alexander Group's management consulting practice, Kathryn's project management skills were put to good use in managing Nurture's start-up operations.   Her bilingual abilities were also a big asset in communicating with Latino partners and participants.  Her love of nutrition and belief in its critical role in good health have provided the passion behind the "Nurture  endeavor", from its roots to its current expansion.  Prior to founding Nurture, Kathryn began "blogging" (really an informal email between friends) on healthy eating which grew to readership in the thousands for  the Healthy Kids Ideas Exchange (HKIE). In 2008 HKIE was the initial source of seed funds to start Nurture, primarily though donations from the readership base who saw the need to spread health and wellness tips to limited-resource families.
Juliette Pomey Britton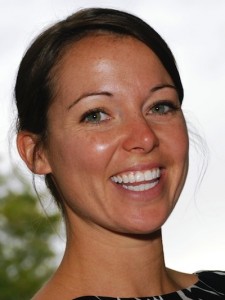 Juliette has a masters in dietetics at University of Illinois at Chicago. Her undergraduate degree is in Community Health Education from the University of Illinois at Urbana-Champaign. She began her Nutrition Education career at the University of Michigan's Project Healthy Schools, a research initiative to combat the prevalence of childhood obesity. Her love for the outdoors encouraged her to take a position in Colorado for Poudre Valley Health System's Healthy Kids Club. While in Colorado, she worked with local schools to promote healthy living through the integration of curriculum and school policy.  She led many after school programs that focused on fitness, nutrition, and fun.  After moving to the Chicago area,  Juliette became heavily involved in Nurture's kids programs and ultimately our entrance into the school system.  Now back in Colorado, Juliette can be found running, spinning, swimming and lifting weights. She is most at home in the kitchen with her two young daughters, where she loves taking old recipes and reworking them with healthier alternatives.
Beth Busch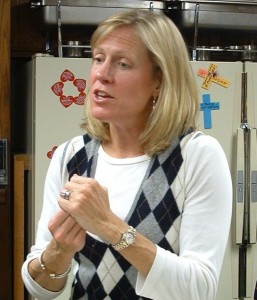 Beth Busch is a certified personal trainer and believes that fitness and healthy eating are critical for all ages. She has an MBA in Finance from Duke University and a BSBA in Finance from Georgetown University. After a career in corporate finance and foreign exchange sales, Beth followed her passion for health and sports and became certified by ACE (American Council on Exercise) as a personal trainer. Beth was deeply involved in Nurture's efforts to integrate physical activity into our agency and school lessons.  She firmly believes that eating well and exercising should be fun – making it easy to integrate them into a natural part of life.
Cindy Dooley
Cindy's life-long interest in nutrition and holistic well-being is defined by her core belief that "you are what you eat."  Her passion for healthy, informed eating turned practical in 2000 when her husband was diagnosed with Celiac disease, a condition corrected by dietary modifications, which was almost unheard of at the time. Today, as the mother of three young children, one with severe food allergies and Celiac, Cindy's mission is to 1) learn as much as she can about the relationship between food and well-being, 2) teach her family about making healthy eating and lifestyle choices and 3) influence and share her knowledge with others whose lives she touches. Cindy has taken nutrition classes at Harold Washington College and works with a nutritionist to stay up-to-date on the issues.
Stephanie Fine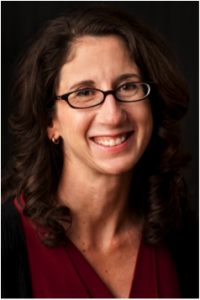 With degrees in History and Spanish, solid scientific training, 20 years of healthcare marketing leadership, volunteer activities that span four continents, and the joyful experience of raising young children, Stephanie was able to bring a diverse set of skills to the Nurture community. Her career in healthcare marketing and education has spanned many complex areas of medicine, but Stephanie's real passion is family health and wellness. She has integrated a lifelong focus on nutrition, exercise, and preventive medicine with a strong belief in community building and helping others. In 2009, Stephanie launched a healthcare consulting group after 10 years at Publicis Healthcare Communications, the world's largest network of medical communications agencies, where she was SVP of Strategy and Scientific Planning. Prior to Publicis, Stephanie held leadership positions within Omnicom and the biotechnology sector, while volunteering with professional, church, and community groups and lecturing on medical education at the University of Chicago graduate studies program. Stephanie's experience and insight allowed Nurture's program evaluation process to become robust and comprehensive.
Julia Dunn Goodhouse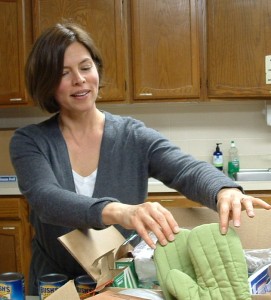 Julia Dunn Goodhouse is an avid home cook with special interests in recipe development, health and nutrition.  Most recently as a public relations professional, she managed accounts for clients in transportation, retail, local government, and commercial real estate industries.  For four years she was a volunteer and eventually a staff member for a nonprofit organization dedicated to sustainable agriculture and education. She also spent over five years in film and television production.  She is a graduate from Loyola Marymount University, Los Angeles, CA, with a degree in Communication Arts.  Julia's love for cooking and recipes is the source of the many delicious and nutritious Nurture recipes.  Julia is now experiencing a three year adventure with her family in Australia, expanding her horizons and palette even further!
Jeff Guylay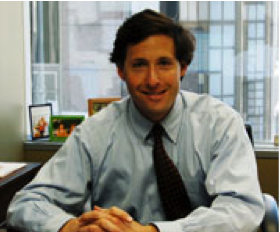 Jeff was one of the very first volunteers at many of Nurture's classes, schlepping boxes and serving food whenever asked.  However, it is Jeff's vast experience in finance and accounting that has ensured that Nurture has maintained solid bookkeeping and transparent reporting to the nonprofit community.   Making Nurture a family affair is important to Jeff and Kathryn, particularly to reinforce to their kids, also active volunteers at ages ten and twelve, the importance of hands-on community work.   When Jeff isn't working, you can find him outside, be it hiking, skiing, or working in the garden with Kathryn and the kids.  Thanks to Kathryn's passion and talents, eating simply and well is just part of Jeff's life. Sharing a wonderful meal together each evening with the kids is key; family dinners together are the norm.  By day, Jeff is an investment banker at Colonnade Advisors. He received an MBA from Northwestern's Kellogg Graduate School of Management and undergraduate degrees from Dartmouth College.
Emily K. Hadley, MS, RN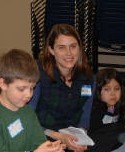 Emily Kenderdine Hadley is a Registered Nurse with a focus on Pediatric Research. Emily holds a B.S. in Nursing from Texas Christian University and a M.S., with an emphasis in Nursing Administration, from the University of Illinois at Chicago (UIC). Emily has had the opportunity to work with many families where nutrition plays an integral role in their child's diagnosis. As a new nurse, she worked at a children's hospital in Texas and provided care to many children with diagnoses such as cystic fibrosis, cancer and diabetes. Upon moving to Chicago, Emily worked as the Diabetes Educator at Children's Memorial Hospital. After graduate school, she was employed at UIC as the Project Director on a National Institutes of Health (NIH) funded research study working with families that have a child with a genetic condition. Emily was an integral team member in launching the Kid's Programs at Nurture.  She now lives in Texas with her husband and two children.
Tia M. Rains, Ph.D.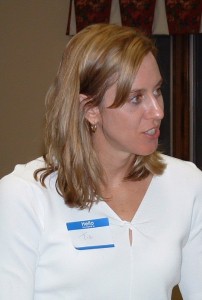 Tia is the Director of Medical Writing and a Principal Scientist with Provident Clinical Research & Consulting, a firm specializing in the design and management of clinical trials in nutrition and disease risk factor management (obesity, cardiovascular disease, diabetes).  Dr. Rains also serves as a nutrition consultant to the food and beverage industry.  Dr. Rains has taught nutritional biochemistry and food chemistry courses at Rosalind Franklin University in West Chicago, IL and at the University of Illinois in Chicago, IL.  In addition to her professional commitments, she frequently speaks to schools, professional groups and other scientists on health and nutrition topics and has been involved in restructuring food programs at several childcare centers and school districts.  Dr. Rains earned a Ph.D. from the University of Illinois in Nutritional Sciences, where her research interests included body weight and appetite regulation as well as vitamin and mineral nutrition.  Prior to graduate school, she earned a B.S. degree in Foods and Nutrition while competing on the Arizona State University swim team as a scholarship athlete.  Tia was a critical team member as Nurture developed its first educational materails, ensuring that our messages reflect the latest in research.  Tia lives with her husband and two children in the suburbs of Chicago.
Colleen Scopacasa

Colleen Scopacasa is a wife and mother of three currently living in the suburbs of Chicago.   She holds a B.A. in Economics from the University of Illinois at Urbana-Champaign and an MLIR from the School of Labor and Employment Relations at the University of Illinois at Urbana-Champaign.  Upon graduating, Colleen worked in Human Resources at The Chrysler Corporation and Motorola, Inc.  Colleen has been raising her children full time since 2001 and has committed her time to her kids' school and community.  In 2003, she started a resume writing and career advising business called Résumés+ which is still active today.  Having been born and raised in an agricultural community, Colleen brought experience in sustainable food, farming, and homegrown food preparation to the Nurture team.  Colleen's extensive experience in communications and human resources allowed Nurture to integrate professional job descriptions and training documents into its repertoire of materials.
Heather B. Sullivan, RD, LDN

Heather is a Dietitian and Clinical Research Coordinator at Radiant Research, a comprehensive clinical research and development company serving the biopharmaceutical and medical device industries.  Heather specializes in providing dietary counseling and education to patients in the weight loss, diabetes and cardiovascular disease trials.  Heather is also involved in conducting staff training on nutrition and disease prevention topics. In addition, Heather sees private clients in Evanston and Chicago for nutrition and healthy lifestyle consultations.  Heather completed the Coordinated Program in Human Nutrition at the University of Illinois in Chicago earning a B.S. in Human Nutrition.  She completed her dietetics internship at Children's Memorial Hospital in Chicago and at the University of Illinois, Chicago Wellness Center, where she developed her nutrition-focused counseling skills with both children and adults.  Prior to becoming a registered dietitian, Heather earned a B.A. in Psychology at Marquette University.  Heather also studied psychology at Victoria University in Wellington, New Zealand where she lived for six months.  Heather's background as a dietician allowed Nurture to incorporate professional nutritional analyses of its recipes as well as ensure that our materials/curricula all align with the latest in nutrition research.  As a young mother herself, Heather took leadership in the creation of our prenatal materials in addition to overseeing our Family Program curriculum and recipes.