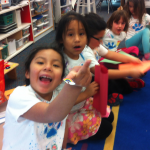 Nurture was thrilled to participate in the 3rd annual Rainbow Day at Hemingway Elementary school in Ketchum.  Over the years, Nurture's role has shifted from a primary role to a support role.  We were thrilled with the leadership roles the Parent Association, teachers, and staff have taken on to make this event happen on an on-going basis.
Want to put on a Rainbow Day at your school?  A Rainbow Day is a great way to highlight the importance of eating fruits and veggies of all colors.  Here are some resources to get you started:
Here are some more resources on eating fruits and veggies:
For a really engaging Rainbow Day, we suggest assigning each grade a color and making that grade the "ambassadors" of that color.  It is great for the students to learn about the fruits and veggies of their assigned color.  When Nurture visited Kindergarten, assigned white, we brought cauliflower, mushrooms, potatoes, jicama and radishes.
Nurture visited the Dual Immersion (Spanish language classes) on Rainbow Day.  Here are some resources we used: