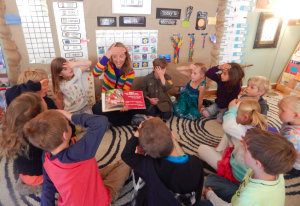 During the month of April, students at Community School in Sun Valley participated in fun, hands-on lessons about the importance of eating fresh fruits and veggies.
They participated in "beta reading" groups to test out the upcoming book, Give It a Go, Eat a Rainbow.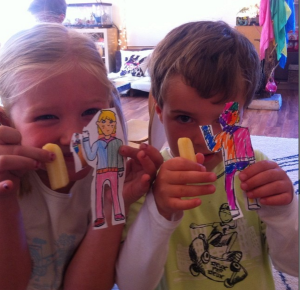 Using this handout, they colored in the character Blake, cut Blake out, and felt inspired to try new foods along with Blake!
Kindergarten teacher Suzanne Buchanan said, "We learned about how beneficial it is to eat a wide variety (a rainbow of colors) of fruits and vegetables and what the different colored fruits and vegetables do for our growing bodies. We also had the opportunity to sample white carrots, purple carrots and jicama! We discovered that when we try something new, we might like a new food."
Click here to see more pictures of the finale event, a Rainbow Day lunchtime salad bar.