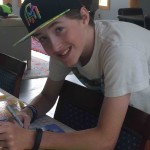 Nurture's Executive Director, Kathryn Guylay, has always wanted to make Nurture events family friendly. After all, our mission is to educate through the parent/child combination. Our history shows a steady pattern of parent/child involvement.
So when parents at the Hidden Springs Elementary School asked me to come and give a presentation, we turned it into a family event.  The stars of the event?  You guessed it– the kids!
We played a game called Grade that Lunch (which I explain in this post), which the kids enthusiastically participated in.
Here is a handout that helps with packing a healthy lunch, both in Spanish and English.
We then talked about the importance of eating the rainbow, and the kids did an art activity with my 13-year old son, illustrator of the book, Give It a Go, Eat a Rainbow.
Here is Alexander talking about the importance of peer to peer messaging (Listen):
Here are some parent Nurture parent handouts on eating the rainbow, both in Spanish and English.
Here are the slides I went through during the presentation:Hidden_Springs_presentation
An important question to ask is:  Are one-time events like these successful in terms of changing behavior?  Here is what a parent had to say just a week after the event:
      -A huge thank you for coming to our community and speaking to everyone.  We learned so much and I can tell you that your words made an impact on our family for every meal since has been assigned points.  Both girls actively bring it up on their own, it is amazing to see!  -Adam Cuneo, Dad
Here are some more pictures from the event: