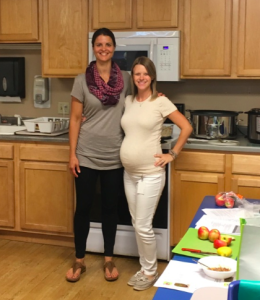 Years ago, Dina Hemminger was dedicated volunteer at several of Nurture's Chicago-based programs. When she moved to Minneapolis, she saw a need for Nurture-like programs.  So she teamed up with local nutrition expert Erin Tietz and began to talk with Nurture Executive Director Kathryn Kemp Guylay about starting a program in their area.
Over the past month, their dream has become a reality.  Not only did they recruit participants, provide healthy food and slow cookers to participants, and teach amazing concepts such as eating a balanced diet and incorporating more fruits and veggies- they had a GREAT time!
Check out some of the great pictures from the program below.
Thank you so much Dina and Erin for your leadership, and a huge thank you to Ignite Sales Management for your much appreciated support of the program.
The feedback from the participants was overwhelmingly positive, including comments such as:
One way I learned for my family to eat healthier is: "actually cook and not snack",  " to try new foods, because variety is necessary to get nutrients".
To improve the program I recommend: "More class sessions".
My favorite part of the session was: "learning new meals"