A story about the rise of Nurture Idaho was featured on The Edible Schoolyard Project this week. Written by Nurture Idaho director of operations Stacy Whitman, the piece (re-published below) offers an inside look at our school-based Food & Fun classes. What a thrill to have our work noticed by the founders of the Delicious Revolution.  Thank you, Edible Schoolyard, for all you do promote edible education in schools!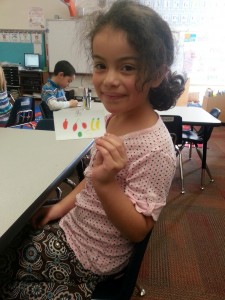 "Why do we eat food?!"
"For ENERGY!" shouts an enthusiastic young boy in a striped t-shirt.
"Right! We need food for energy. Just as a car won't run without gasoline, our bodies need food to make us go. But while some foods give us long-lasting energy and help us stay healthy, other 
"Broccoli?" asks a girl tentatively. "Apples!" says another.foods make us sleepy and 'Slow.' Can anyone name a 'Go!' food?"
"Exactly! Broccoli and apples are "Go!" foods because they provide energy and nutrients necessary to grow strong, think clearly, run and play. "Slow" foods, on the other hand, tend to have a lot of sugar or unhealthy fat and don't give your body the energy and vitamins you need to grow. Now raise your hand and give me an example of a 'Slow' food."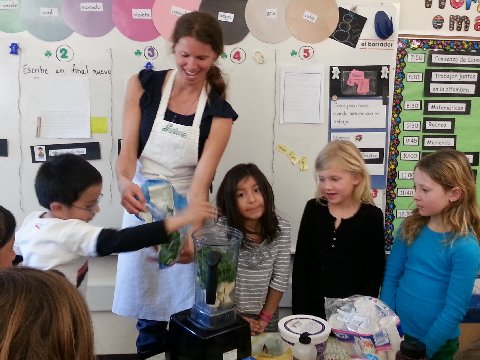 We're at the start of one of Nurture's signature Food & Fun classes, and this group of eager 5- and 6-year-olds is here to learn about making healthy eating choices. After an interactive nutrition lesson and Go/Slow Relay, the children will wash up before gathering around a blender to make "Go!" smoothies with whole fruits and fresh spinach.
Some of the kids have never eaten spinach before. Others say "Yuck!" or make a face when the word is first mentioned. Soon enough, however, they will be placing dark green leaves, blueberries and yogurt into a glass blender jar. After it's done whirring, they'll take a tentative sip, smile, and guzzle it down. Most will request seconds. Later, when they see their parents, the kids will rave about the yummy drink and ask if they can make it at home. Their parents will be dumbfounded and pleased. Mission accomplished.
It's these kinds of results that have led to a hot demand for Nurture's programming in our Central Idaho community. In just two years, our non-profit organization has gone from teaching two classes a month, to school-wide programming at a private K-8 school plus programming at four out of five local public elementary schools. What began as one mom's volunteer effort is now positively influencing the eating habits of hundreds of children and their families. And with the help of the Blue Cross of Idaho Foundation for Health, Nurture soon will be expanding to other parts of Idaho.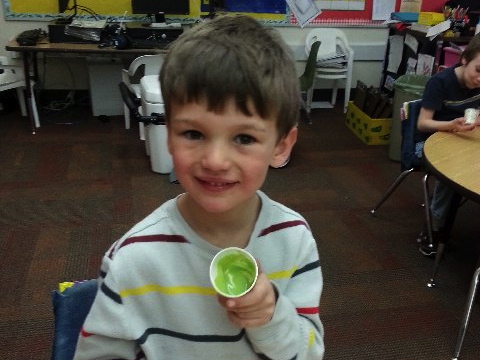 Nurture has been providing food education to kids and parents in the Chicago area since 2008. In 2011, Nurture founder Kathryn Guylay decided to trade fast-paced urban life for the laid-back mountains of Sun Valley, Idaho. With no intention of starting an Idaho chapter, Kathryn realized that she missed working with children and offered to teach a couple Food & Fun classes at her son and daughter's new school.
News of the classes quickly spread. Other teachers caught glimpses of the kids doing fun nutrition-based games or sampling snacks like hummus and carrots. They saw the excitement. But it was documention of the program impact at the end of the 2011-12 school year that officially did the trick. "We did evaluations to show what the kids had learned," Kathryn explains. "Then all the teachers really wanted Food & Fun in their classrooms."
It wasn't long before other schools caught wind of the Nurture Elementary Nutrition and Wellness Program, too. Suddenly, Kathryn found herself in the position of having to bring on several nutrition educators, a program coordinator and other part-time administrators to meet the demand.
When Nurture first started, Kathryn spent a lot of time trying to convince people of the importance of food education. Now, thanks to Michelle Obama's Let's Move campaign and organizations such as Jamie Oliver's Food Revolution and The Edible Schoolyard Project, school administrators, teachers and parents are lining up to ask for it. "Teachers want their kids eating healthy foods because they know how it affects their performance," Kathryn explains.
Food & Fun has been a big hit with students too, which Nurture program coordinator Amy Schlatter attributes – at least in part – to the food tastings. "Kids love getting the snacks," she explains. "In all my classes, there were super-picky kids and there were ones who were brave. The positive peer pressure caused the picky ones to try [new foods]." 
"It's so interesting to learn about food and what it does for my body," attests Antonia Avery, who participated in Food & Fun as a 5th grader at Hemingway Elementary in Ketchum, Idaho. "[Before Food & Fun], I never really thought about breakfast but once I tried the "Better Oats" recipe [in class], I went home and made it. When we ran out of the free box we got, I started asking my Mom to buy it instead of the sugary cereal I used to eat."
Learn more about Nurture Idaho's work in schools on the Nurture site and on the Edible Schoolyard Network.
This blog post was originally published by The Edible Schoolyard Project.