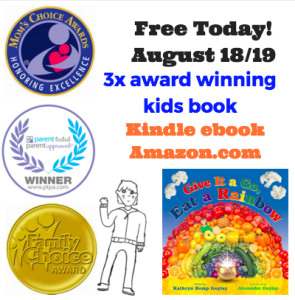 Nurture is so proud of one of its most popular programs to educate kids about healthy eating, Rainbow Day.
Nurture Executive Director Kathryn Kemp Guylay enlisted the help of her then 12-year old son Alexander to provide illustrations combined with beautiful photography of fruits and vegetables for this full color, 54 page book that kids love.
We have a dedicated website full of resources that support Rainbow Days in schools, homes, or anywhere you can think of!  Check out the downloadable files, videos and more at www.giveitagoeatarainbow.com
We wanted to make the book FREE so that we could help more people.  What we'd love in exchange is your honest REVIEW of the book.  Why are reviews so important?
*Amazon reviews help book buyers make decisions.  Do you read the reviews on Trip Advisor before deciding on a hotel? I do. Book reviews are no different.
*If the book is by a self-published author, or published by an independent press (like our book is) the creators have to do all their promotion and marketing themselves ~ reviews from the reading public are our only free helping hands. 🙂
*The amount of reviews on Amazon helps a book's visibility.  If you love a writer's work and want others to do so, too, writing a review helps build discoverability. Our goal is to get to 100 reviews before we put out any additional work (yes, we'd love to get out our next book; with a twist on gardening)
It's your good deed for the day, and will only take a few minutes!
To be a part of all this fun, just download your free book, then go to the review section, click on the grey box "Write a Review", add stars and a few words. We read EVERY review and can't wait for your honest feedback. THANK YOU!
Here are some recent examples.  They seriously MAKE OUR DAY.
We hope they encourage you to pick up your free ebook today!