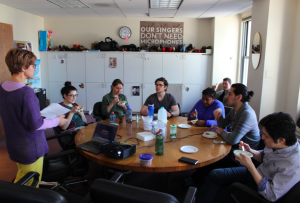 Collaboration Recipe:  Nurture + Lyric Opera of Chicago= happy and healthy musicians.
A huge thanks to Chicago-based Nurture volunteers Tanja Chevalier and Kim Seiden for putting on a fantastic program for Ensemble members of The Patrick G. and Shirley W. Ryan Opera Center at the Lyric Opera of Chicago.
Here are some ways the participants in the program are reporting their behavior changing:
"(I'm) includ(ing) more vegetables and fruits and cut(ting) down on carbs"
"(I will) continue to explore more lean meats and plant proteins and incorporate more vegetables"
"I try to add vegetables to everything I eat"
"Even just the idea of using a crockpot (slow cooker) to cook was new to me, so that saves me a lot of time and some money since the recipes last a while"
"I'm more conscious of protein and vegetable portions"
Sounds like some great behavior changes!
The Ryan Opera Center Ensemble members are in residence for one to three years. Over the course of their stay they receive advanced instruction in numerous aspects of operatic performance, including voice lessons and coaching, language and acting training, and master classes with some of opera's most renowned artists. Adding a nutrition and cooking component was a much appreciated addition to the program. Each participant received a gift slow cooker through their participation in the program. The Nurture program consisted of four lessons as follows:
Week 1: Fruits/Vegetables and Slow Cookers
Recipes served: Veggie Burrito Bowl, Fruit Salsa, Avocado Bean Dip
Week 2: Lean Proteins/Protein Sources and Portion Distortion
Recipes served: Chili (with black beans), Herbed Lentil soup
Week 3: Whole grains/Fiber and Labels
Recipes served: Arugula salad with feta and roasted walnuts (lemon + olive oil vinaigrette, salt and pepper), Skinny Slow-Cooker Spinach Lasagna
Week 4: Breakfasts and Beverages and Fats
Recipes served: Pumpkin Pecan Oatmeal, Chocolate Banana Cream Pie Pops (without graham cracker), Slow Cooker Frittata with Kale, Roasted Red Pepper, and Feta
What a fun and healthy feast!
Here are some photos from the program: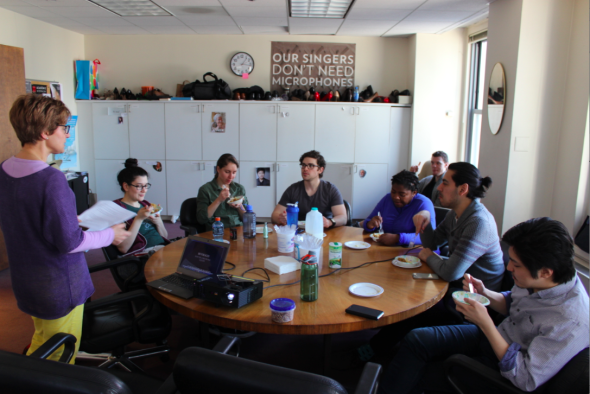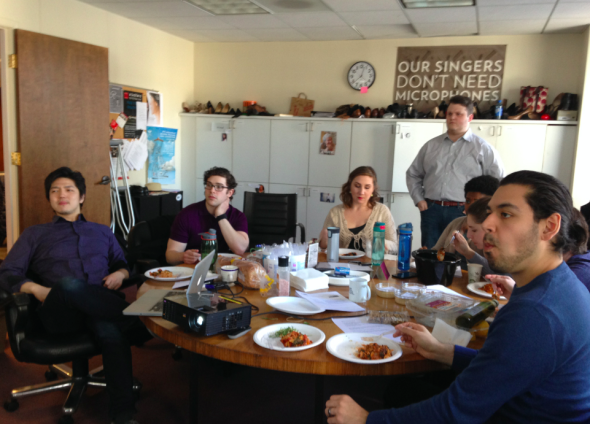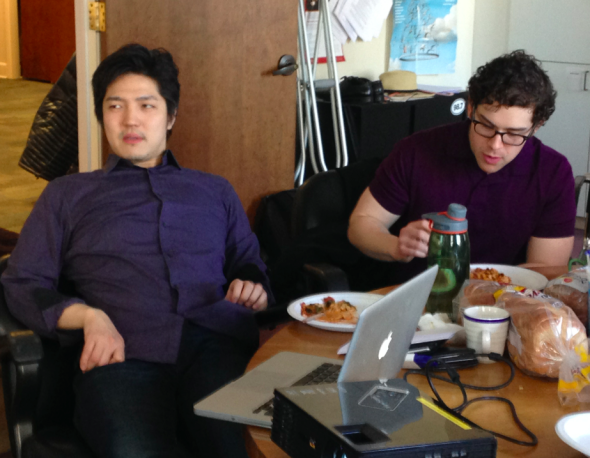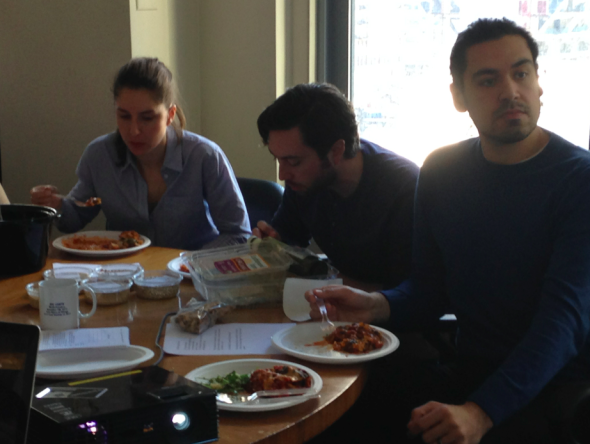 About The Patrick G. and Shirley W. Ryan Opera Center at the Lyric Opera of Chicago
The center was established in 1974 as the professional artist-development program for Lyric Opera of Chicago. Since its inception, the Ryan Opera Center has been recognized as one of the premier programs of its kind in the world. That standing is maintained by providing the finest up-and-coming singers and pianists with unparalleled training and experience. The program is administered by Dan Novak, Director; Craig Terry, Music Director; Julia Faulkner, Director of Vocal Studies, and Renée Fleming, Advisor.  See more here.